Self-elevated Barges – Gulf of Guinea // PROCESS SYSTEMS
Manufacturing of 6 self-elevated barges bound for the Gulf of Guinea.
The new year of 2019 is synonymous with new challenges for FIPE with its self-elevated barges!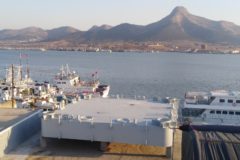 For the first time since its creation, the Chinese workshop FIPE has manufactured 6 self-elevated barges measuring 18 metres by 18 metres with a height of 3.2 metres, each weighing no less than 160 tonnes, without its accessories, to be installed in the Gulf of Guinea.
With 15 000 m² workshop as well as adapted handling facilities (up to 100 tonnes overhead crane, workshop bay with a height of 16 m below lifting hook, opening of 23 x 20 m, ship loading dock of 100m…) FIPE has been able to win such a large order.
FIPE could not have risen to the challenge without the partnership of its French sister company PROCESS SYSTEMS (turnkey process units supplier) which is the Client's main contact regarding the complete project engineering. Manufacturing and quality follow-up is managed by FIPE. This complementarity enables the various entities of the IWF group to benefit from the expertise and consequent increase in response time.
The order was placed in July 2018 and FIPE has delivered the first 3 barges in mid-February.