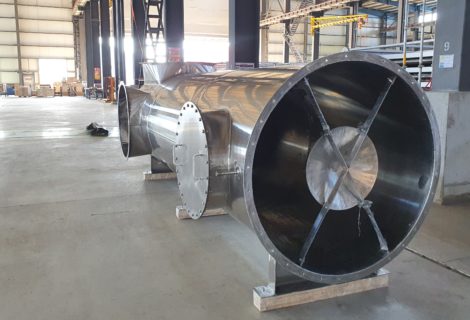 Hot Air Generator // ALPHAPLATRE
Hot air Generator in 310S stainless steel
Hot air generator: the continuity of a major project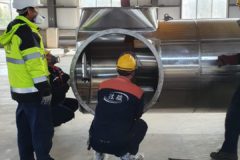 Following on from the Indian project carried by our sister company ALPHAPLATRE, FIPE is currently manufacturing one of the masterpieces of the final installation: the hot air generator. Its mission will be to diffuse hot air on the plasterboards to ensure perfect drying. 4.5m long, its diameter is 1.3m.
The choice of metal for this equipment led to 310S stainless steel. Indeed, due to its alliance of chromium and nickel, it will allow excellent resistance to oxidation and will respond to different thermal constraints.
This metal part is made up of a central shell in 3 elements and of 3 nozzles. Among these, two of them are hoppers (rectangle base / round outlet) made in our production workshop.